---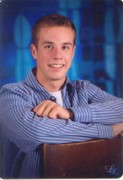 Gage Kepple
---
The Intelligent Life of Mr. Gage Kepple
Reserved but Outrageous
You may know Gage Kepple as an intelligent and sophisticated student at Ness City High, but deep down inside he is a German speaking, piano playing, trumpet blowing, outgoing kind of guy. Gage Kepple, a senior at Ness City High, is the son of Jim and Valarie Kepple. Gage has attended Ness City Schools since his school career began. Gage has one younger brother, Griffin Kepple.
Gage's favorite class during high school was being Mrs. Kelley's teacher aide; however, his most hated class was Physics. Mrs. McNinch has been Gage's favorite teacher throughout high school because she has funny jokes. Gage told me his favorite year out of all four high school years was his junior year because it was the most fun. His most memorable moment in high school was winning a state championship title in track. Gage's worst high school moment was his sophomore basketball season.
During high school Gage has participated in basketball, 9, 11, 12; track, 10, 11, 12; KAYS, 9, 11, 12; STUCO, 9; and band, 9, 10, 12. Gage's academic honors include: Superior Honor Roll, 9th grade to present; Ft. Hays State University Math Relays, 10, 11, 12; Scholars' Bowl, 9th-12th grade; National Honor Society, 10, 11, 12; Dodge City Community College Math/Science Bowl, 10th grade; and Jack Kilby Science Day at Barton County Community College; 12th grade.
---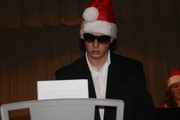 Gage plays the Keyboard seriously during the Christmas concert.
---
Gage's favorites things:
1. Favorite color: Ness City Blue
2. Favorite TV show: Family Guy
3. Favorite movie: The Hangover
4. Favorite sport: Track
Gage works at Ralph's Supermarket in Ness City, where he stocks shelves and carries out groceries. He doesn't mind his job as he jokes, "It puts bread on the table." Gage enjoys hanging out with his friends on the weekends, playing video games here and there, and spending time with his family. Gage said his favorite vacation so far has been to St. Louis. He would like to visit Germany for a future vacation.
Gage plans to attend college at Kansas State University and major in an area of business and later plans to get a law degree. Good luck Gage with your future plans.